uPVC French Casement Windows Chatteris
Open up your home with our stunning uPVC French Windows.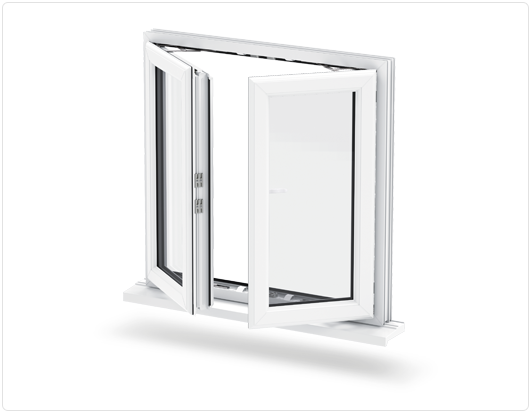 For unrestricted views out to your Chatteris garden, our French casement windows are the perfect solution. The expansive double glazing will let light stream into your property, brightening your home. This glass also works to prevent heat loss, ensuring year-round comfort.
Our uPVC French casement windows will enhance both traditional and contemporary properties. Each product is tailor-made to suit your requirements, with a wide selection of durable colours, finishes and hardware accessories. Match your aesthetic with our uPVC French casement windows.
The 90˚ hinge opening is a standout aspect for the windows. This multi-functional design is innovative and modern. Enjoy a new set of windows that excel in security, thermal performance and durability. They are incredibly low maintenance, perfect for busier households.
Flying Mullion

In the fully open position, one sash carries the central mullion for completely unrestricted views. Frame your garden as if it were a painting with our uPVC French windows.
Controlled Ventilation

You can open the master sash independently from the slave sash to create variable ventilation. uPVC French windows are great for letting fresh air into your home.
90˚ Hinge Opening

Sashes can open to a full 90˚ which provides a greater sense of space and lets in additional light. Connect with the outdoors with our uPVC French windows.
Fire Escape Route

French casements are Part B compliant, which makes them ideal for narrow openings and fire escapes. Don't compromise in an emergency; choose uPVC French windows.
Eco Friendly

As with all our uPVC products, French casement windows are 100% lead-free and 100% recyclable. Be better to the environment with our range of double glazed uPVC windows.
Easy To Clean

Easy clean hinges are available to make our French casements extremely low maintenance. Unlike timber counterparts, you will be able to keep on top of the upkeep easily.
Market-Leading Windows
We work with some of the industry's leading suppliers in our uPVC French casement windows. We offer a high-quality Liniar profile, manufactured to a superior standard. uPVC is known for its durability and weather resistance, as it's commonly used for longevity. You are certainly getting the best with our French casement windows.
We also partner with Yale to offer some of the most secure locking systems. The multi-point mechanisms integrated into all the windows to ensure long-lasting protection. As well as this, the glass is internally beaded, meaning it cannot be physically removed from the outside. Rest assured, your Chatteris home will remain safe.
uPVC French Windows Benefits
The beauty of uPVC French casement windows is their wide opening. Unlike standard casement windows, this style doesn't contain a bar down the centre of the frame. Enhance your views outside and let fresh air circulate your property. The windows are incredibly low maintenance, performing to a superior standard. They won't warp, crack, rot or distort when exposed to the elements. Once they reach the end of their lifespan, they can be completely reused and transformed into a brand new product.
With a multi-chambered profile, your Chatteris home won't experience heat loss. The profile results in exceptionally low U-values, ensuring your property stays at the optimum temperature. As this, double glazing excels in energy efficiency. The dual-pane system traps pockets of warm air which would have otherwise escaped your home. Lower your energy bills and make a conscious effort to help the environment as you reduce your carbon emissions. Choose our thermally efficient uPVC French casement windows.
Customisation Options
Our French casement windows are entirely bespoke to each customer in Chatteris. You can choose from our fantastic customisation options for a sleek finish. Our expansive colour portfolio will give you the chance to tailor the look to match your existing decor perfectly. We also have the option for traditional woodgrain finishes for an authentic feel to the window. Our colours are made with a durable coating, which won't crack or peel over time. The windows will keep their fantastic appearance for decades.
As well as this, we have a choice of hardware accessories. Chatteris customers can match their doors and other windows with our high-quality handles. These can also match the hinges we install within the window. Whether you live in a traditional or modern house in Chatteris, we have a window for you. We are happy to offer advice when it comes to the design, but ultimately the creative decisions are yours to make. Add visual appeal to your property with our French casement windows.
uPVC French Windows Prices Chatteris
Improve your Chatteris home with a uPVC French casement window. Discover our competitive prices by using our
online quoting tool
. Follow the step by step process and receive a quick, no-obligation quote for your next home improvement. You can use this on our entire range of double glazing products!
You can get in touch by filling out our contact form. This can be done by filling out our online contact form. Once we have received your message, we will do our best to try and get back as quickly as possible. Give our team a call on 01354 655200 to speak to us directly. We look forward to hearing from you!
Get your Window Quote Now