Tilt and Turn Windows
Versatile Tilt and Turn windows are both attractive and functional.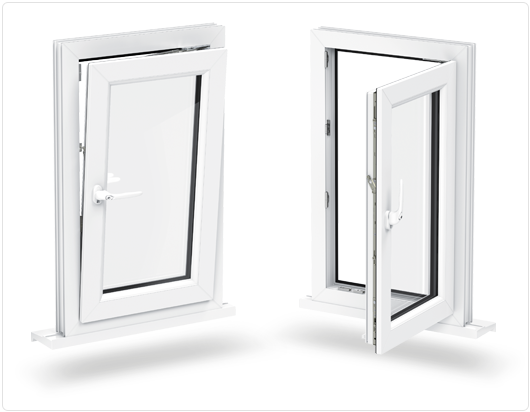 Safe and Secure
With our Tilt & Turn windows you are getting a highly versatile, flexible and durable design that is beneficial to a wide selection of properties. 
A superb option for high rise apartments, the turn function allows for easy cleaning from the inside of your home. Alternatively, bungalows will benefit from the tilt function. This allows for fresh air to enter without having to open the window fully, compromising on security on the ground floor.
Highly adaptable and multi-functional, our uPVC tilt & turn windows are a very practical choice for home owners.
Secure Ventilation

Handy 'tilt only' function creates additional ventilation without affecting security levels.
Integrated Hardware

UNI-JET concealed gearing is better looking and more secure than previous face-fix gearing.
European Aesthetic

Fully integrated hardware as well as clean straight lines offer European sophistication to our windows.
Corrosion Resistance

'FerGUard silver' surface coating makes sure you get long lasting protection against corrosion.
Quick To Clean

90˚ turning action allows for simple exterior access for cleaning, great for all your upstairs windows.
Continuous Seal

An uninterrupted rebate gasket stops condensation, as well as improving sound proofing in your home.
Tilt & Turn Security
Each of our windows, including tilt & turn, come fully fitted with Yale high security shootbolt locking systems. These multi-point window locks are one of the safest in the UK, so you can be assured of high safety with our tilt & turn windows.
We use the world's favourite locksmith for your protection and peace of mind. Offering you unrivaled security you know you're in safe hands with Art On Glass.
Accredited by the Secured by Design Police backed scheme to give the greatest protection towards any forced entry. Complete with two guarantees against mechanical failure and security you can sleep easily at night.
Get your Window Quote Now