Sophisticated French Casement Windows
Open up your home with our stunning French Casement Windows.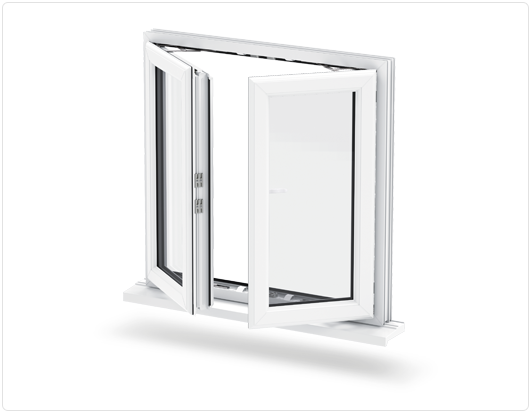 Create A Clearer View
Create unrestricted views outwards with our beautiful French casement windows in Cambridgeshire. Their wide opening action allows ample fresh air to enter your home, great for the summer months. 
Tailor made to suit your requirements, Art On Glass have everything you could want from a French casement window. With environmentally friendly properties, energy efficiency and unrivaled design they make a great double glazing addition to any home.
The 90˚ hinge opening is what makes these windows stand out from the crowd.  A superb choice for an emergency fire escape, their multi-functional design is highly desirable.
Flying Mullion

In the fully open position, one sash carries the central mullion for completely unrestricted views.
Controlled Ventilation

You can open the master sash independently from the slave sash to create variable ventilation.
90˚ Hinge Opening

Sashes are able to open to a full 90˚ which provides a greater sense of space and lets in additional light.
Fire Escape Route

French casements are Part B compliant which makes them ideal for narrow openings and fire escapes.
Eco Friendly

As with all our uPVC products, French casement windows are 100% lead free and 100% recyclable.
Easy To Clean

Easy clean hinges are available to make our French casements extremely low maintenance.
Transform Your Home
Who knew that simply having new double glazing installed could make your home feel more spacious, lighter and warmer? With an Art On Glass installation you really will benefit.
Unlike standard casement windows, French casement windows don't contain a bar down the centre of the frame, making them an excellent choice for an enhanced view point.
Install French Casement Windows to your home in Peterborough, March or the surrounding areas in Cambridgeshire.
Get your French casement window Quote Online today.
Get your Window Quote Now