French Casement Windows March
Open up your home with our stunning uPVC French Windows.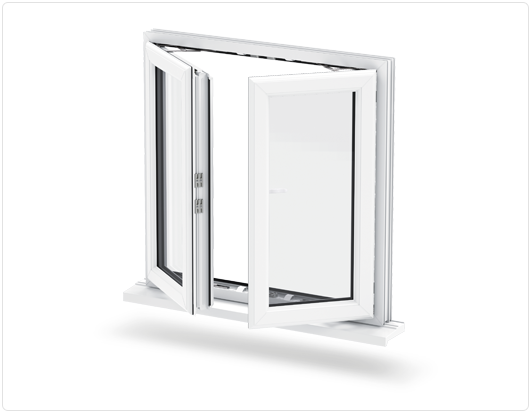 Create A Clearer View
Create unrestricted views outwards with our beautiful French casement windows in Cambridgeshire. Their wide opening action allows ample fresh air to enter your home, great for the summer months.
Tailor made to suit your requirements, Art On Glass have everything you could want from a uPVC French window. With environmentally friendly properties, energy efficiency and unrivalled design, they make a great double glazing addition to any home.
The 90˚ hinge opening is what makes these windows stand out from the crowd. A superb choice for an emergency fire escape, their multi-functional design is highly desirable. You will be able to create stunning installations that will complement any home of any age.
Are you interested in our uPVC French windows? Get in touch with the Art On Glass team for more information and to get a bespoke quote.
Flying Mullion

In the fully open position, one sash carries the central mullion for completely unrestricted views. Frame your garden as if it were a painting with our uPVC French windows.
Controlled Ventilation

You can open the master sash independently from the slave sash to create variable ventilation. uPVC French windows are great for letting fresh air into your home.
90˚ Hinge Opening

Sashes can open to a full 90˚ which provides a greater sense of space and lets in additional light. Connect with the outdoors with our uPVC French windows.
Fire Escape Route

French casements are Part B compliant, which makes them ideal for narrow openings and fire escapes. Don't compromise in an emergency; choose uPVC French windows.
Eco Friendly

As with all our uPVC products, French casement windows are 100% lead-free and 100% recyclable. Be better to the environment with our range of double glazed uPVC windows.
Easy To Clean

Easy clean hinges are available to make our French casements extremely low maintenance. Unlike timber counterparts, you will be able to keep on top of the upkeep easily.
Transform Your Home
Who knew that simply having new double glazing installed could make your home feel more spacious, lighter and warmer? With an Art On Glass installation, you really will benefit.
Unlike standard casement windows, French casement windows don't contain a bar down the centre of the frame, making them an excellent choice for an enhanced viewpoint.
Install French Casement Windows to your home in Peterborough, March or the surrounding areas in Cambridgeshire.
Get your French casement window quote online today.
uPVC French Windows Benefits
These amazing installations are made all the better through their customisation options. Choose from an incredible shade range that will perfectly complement your existing aesthetics through either a similar or a contrasting shade. You can also choose whatever finishes you would like. This includes a woodgrain finish for a more traditional style without the hassle of a timber installation.
Our uPVC French windows are incredibly low maintenance. They will not bend, crack, warp, twist or rot. This is because they are made out of the robust uPVC material that is sure to last for many years. Gone are the days when you would have to sand down your windows to keep them barely functioning.
Our uPVC French windows will be sure to have smooth functionality for its entire life span. Once done, they can be recycled and reused as part of another project or product.
Professional uPVC French Windows Installer
Our team here at Art On Glass have years of experience in installing uPVC French windows for customers throughout Peterborough, Cambridgeshire and the surrounding areas. You will be guided through the whole process of getting your uPVC French windows installed. From initial discussions through to the actual installation – we will be with you every step of the way.
Better yet, our team will not get in your way of you living your day to day life. We will not disrupt you and our team will be sure to tidy up after they have installed your brand new and stunning uPVC French windows. We have garnered an exceptional reputation over the years for high-quality installations delivered promptly and efficiently.
uPVC French Windows Prices, Peterborough & Surrounding Areas
Discover our amazingly competitive prices on our uPVC French windows. You can do this by using our
uPVC window cost calculator
. Simply, follow the step by step process to be presented with a bespoke quote tailored to your specifications.
Alternatively, you can get in touch with us by dropping us a message. This can be done by filling out our online contact form. Once we have received your message, we will do our best to try and get back as quickly as possible. We will have all the relevant information that you need about our uPVC French windows.
We look forward to hearing from you soon!
Get your Window Quote Now