Solid Roof Conservatories March, Cambridgeshire
A modern tiled conservatory roof is one of the most cost-effective ways of transforming your conservatory into extra space you can enjoy every day. Specifically designed to retain a comfortable living temperature inside your conservatory all year round, come winter or summer, these roofs utilise inherent advanced materials within the roofing system to keep you comfortable.
The team at Art On Glass are exceedingly proud to work alongside Supalite, the leading name in tiled conservatory roofs. Our online quoting engine features a step by step process, allowing you to get a price that is tailored to your exact specifications. This way, you'll get the best price for your needs.
Benefits of a Solid Roof Conservatory
Investing in our market-leading tiled conservatory roof will benefit both your home and health. A conservatory increases the natural light entering your property, giving you a place to unwind and relax in the evenings and weekends.The one problem that conservatories can have is the temperature. During the warmer summer months, the room can get almost unbearably hot, creating the need for air conditioning and fans. Through the winter, the problem reverses, and the conservatory can be too cold for everyday use.
Intelligently designed, tiled conservatory roof systems monitor and behave differently depending on the outside temperature, maintaining pleasant living conditions all year round. Extra living space without the need of having to invest in more expense and time consuming full brick extension.
Why Choose A Solid Conservatory Roof from Art On Glass?

Outstanding Quality
Art On Glass work closely with one of the most respected manufacturers of solid conservatory roofs. A quality product installed by professionals.

Designed for you
Our tiled conservatory roofs benefit from a minimalist and authentic design. Ensuring they complement the existing aesthetics of your Cambridgeshire home.

Fast to Fit
Our team has received the highest level of training in order to install our tiled conservatory roofs quickly and effectively.

Unbridled Performance
Remain warm and dry all year round, transform your conservatory into an everyday room with a solid conservatory roof.

Resist the Elements
Our tiled conservatory roofs are designed to provide outstanding thermal performance for years: it's a roof you can trust.

Low Maintenance
Tiled conservatory roofs require little to no maintenance in order to retain both their performance and appearance.
Increase The Value Of Your Home
Tiled conservatory roofs are fast becoming one of the most popular home improvement products in Cambridgeshire. With homeowners taking advantage of their cost-effective and hassle-free way of transforming a conservatory into an everyday room. A tiled conservatory roof can increase the overall price of your home.
Fully Customisable
One of the greatest benefits a tiled conservatory roof, or solid conservatory roof, is that they can be completely customised to suit the appearance of your home. We can offer tiled roofs in a variety of finishes, to suit all types of conservatories. Why not add ceiling lights or perhaps even ceiling speakers to make the space that bit more welcoming?
Weatherproof Conservatory Roofs
When you're at home, your new roof will reward you with a comfortable and quiet space to relax in. At all other times, it will protect your property from almost all attempts to gain access. That's because the tiles in our solid conservatory roofs are virtually impossible to remove. Protection and peace of mind come as standard when you choose Art On Glass.
Our solid conservatory roofs will protect you from more than opportunists attempting access. The robust design of our products means they are waterproof. During extreme weather, you won't need to worry about leaks, a symptom sometimes exhibited by polycarbonate systems. Your new roof will also minimise acoustic interference, making your room quieter.
Replace Your Conservatory Roof, Not Your Conservatory
A new tiled conservatory roof not only massively improves the performance of the room but also succeeds in improving the overall appearance of your property.
The Latest Home Improvements Installed by Trusted Professionals
Art On Glass are proud to be the leading name in home improvements in March, Cambridge, King's Lynn, Peterborough, Wisbech and surrounding Cambridgeshire towns.
We have more than thirty-eight years' experience in the home improvements and double glazing industry, placing us as one of the most experienced firms in the county.
During our time in the industry, our team has dedicated themselves to becoming accredited by leading industry names. Including Certass, Trust Mark and Trustwave to a few.
Replacement Conservatory Roof Prices
If you are considering upgrading your conservatory roof, our sophisticated online quoting engine generates prices in just two minutes. If you would like further information about our conservatory roof systems, please do not hesitate to get in touch.
Contact us via our contact form, email dan@aogwindows.co.uk or call 01354 656421.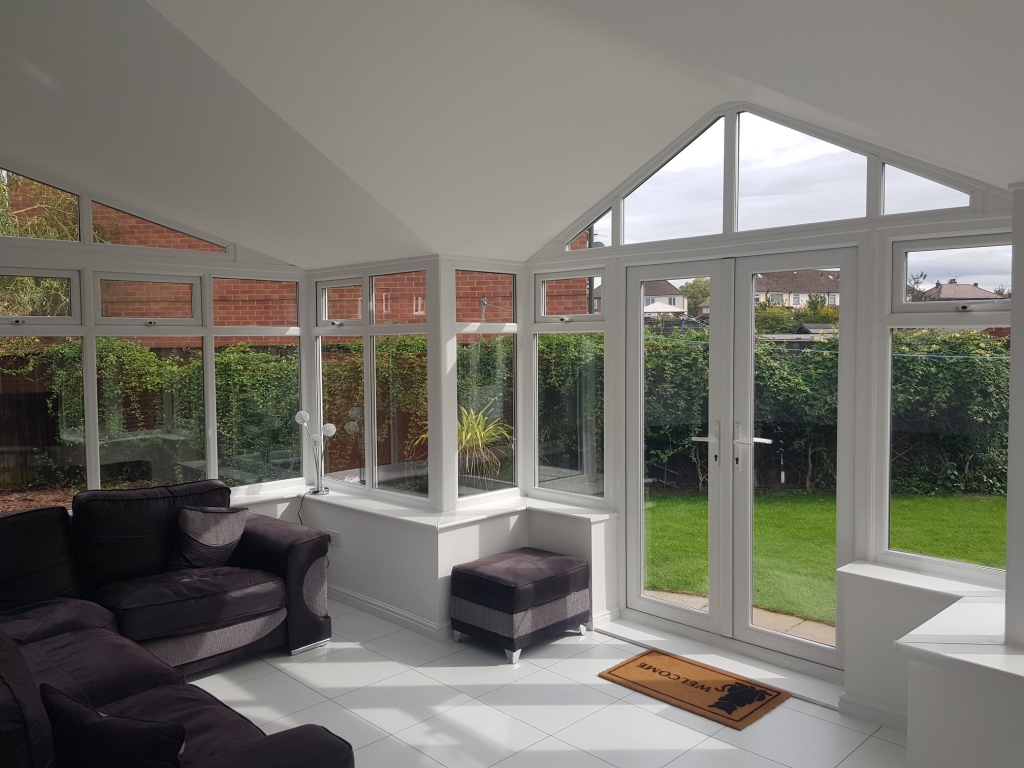 Tiled Conservatory Roof Prices