Composite doors are an energy conscious investment, made by thousands of British home owners every year. Improving your front door's energy consumption is an ethical and financial investment, a victory in the ongoing battle against inflating energy bills. Composite doors are affordable, attractive and eco friendly.
Composite Doors, a solution to a problem you didn't know existed. Don't get us wrong, cheaper plastic doors have their own energy saving properties. But compared to a composite door, you may as well fit a singular layer of cling film to the entrance to your home and keep your fingers crossed.
This month, Art On Glass takes you through the energy saving properties of Composite Doors.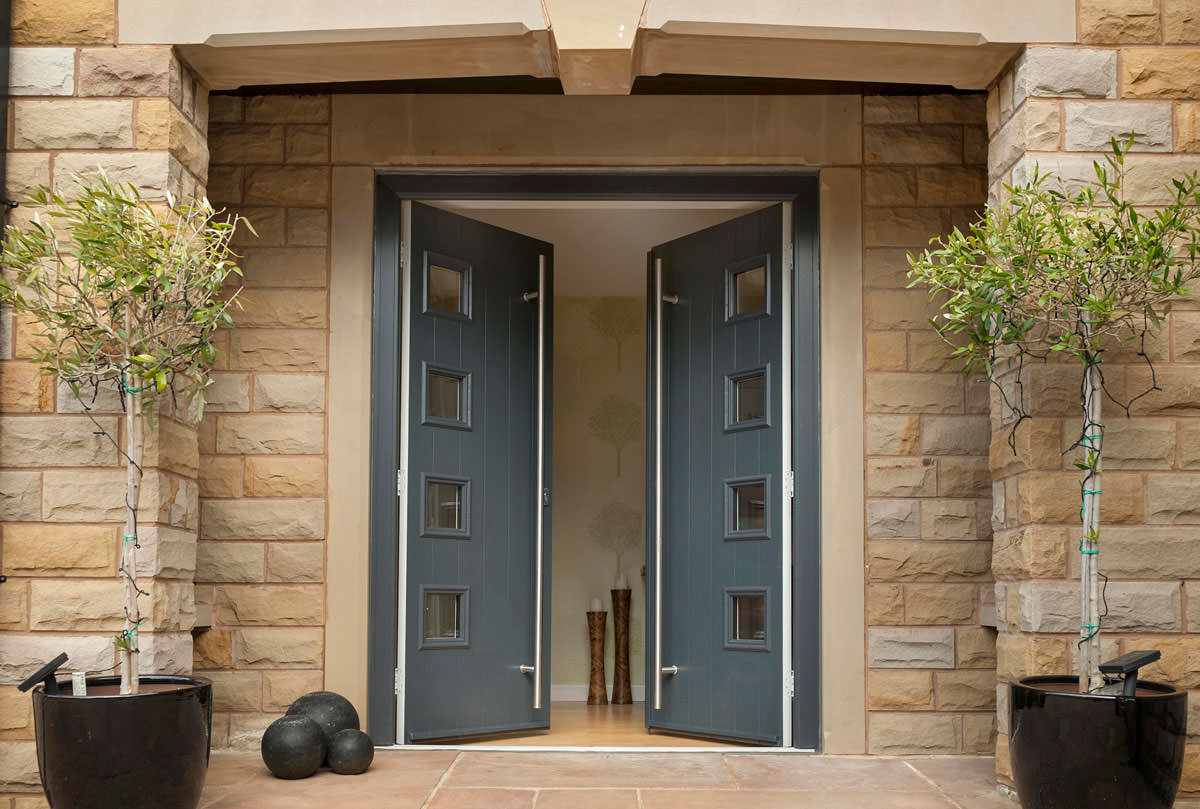 What is a composite door?
Composite Doors are specifically designed to combat harsh weather conditions, offer extensive energy efficiency values, eradicate draughts from your home and lower your energy bills throughout their lifespan.
They are made from layers of energy efficient, and environmentally friendly materials. Unlike less energy focused doors, composites are constructed from more than one material, each with their own unique properties that improve energy consumption and lifespan.
On the outside of the composite door, a highly weather resistant and attractive coating. The outer layer of the composite door is the primary defence against corrosive weather conditions.
On the inside of the composite door, we concentrate on fitting the highest quality insulating material available. Assuring that your composite door keeps the cold air out and warm air in.
As all of our composite doors are made to measure, we design your front door to be a perfect fit. What's more, we place high quality sealants around the perimeter of the composite door. The combination of sealants, energy saving materials and a perfect fit work together to drastically improve your front doors energy consumption.
Would you care to hazard a guess on how much energy your home regurgitates onto the street through ill fitted, poor performing front doors? Alarmingly, research carried out by the National Insulation Association suggests that your front door could be seeping 20% of your home's energy bills. Every. Single. Day.

Why Invest In A Composite Door
There's a reason why environmental issues are covered so thoroughly by the mainstream media. Although unnoticeable to the average Joe during his all too familiar daily plod, we exist in a time where previous political decisions are accelerating our planet's destruction.
For example, since 1870 global sea levels have risen by eight inches. There is more carbon dioxide in our atmosphere today than there has been at any point throughout the last eight hundred thousand years. And, since 1979, the size of the summer ice caps have decreased by 20%.
This may sound dramatic, possibly over the top in a blog post about composite doors. Now may be a good time to deploy the phrase 'every little helps.' We see it like this, why not spend a little more to greatly reduce your home's carbon footprint?

Benefits Of Composite Doors
Composite doors are designed to reduce your monthly energy bills, that's fact. What's more, composite doors are manufactured to your specifications. Encompassing features that you choose! Here at Art On Glass, we succeed in adding the wow factor to your home by offering tailor made composite doors.
Choose from a variety of colours, designs and accessories like letterboxes and door handles. Highlight the charisma in your property by investing in an energy efficient composite door.
Aesthetically, composite doors greatly improve the desirability of your home, which in turn increases the resale value. What's more, a composite door tightens your home's security. Invest in peace of mind for yourself and your loved ones – invest in a composite door.
Finally, once fitted your composite door requires little maintenance. Unlike outdated wooden doors, your composite door will not require painting or treating to maintain its shape and performance. So, you won't need to reserve one of your precious weekends to wrestle the composite door from its hinges, put your back out through the process and run out of paint half way through.
This is down to the quality of the materials, and design of the composite door. All hinges and locks are built into the frame. Assuring they are kept well away from damaging weather conditions, thus maintaining their functionality. At the most, you'll have to spend ten minutes after a harsh Winter cleaning the hinges with hot soapy water, but that's about it.
Online Quote
Do you feel it's time to start taking your home's energy efficiency more seriously? Time to start saving money and reducing your carbon footprint? Art On Glass offer a fantastic, easy to use online quote system. Simply follow this link to start yours.
Alternatively, why not give us a call directly? To talk to one of our friendly professionals about your new composite door call – 01354 655 200.