We recently completed a composite door renovation for one of our customers. The customer wanted a bespoke composite door to update their previously outdated one. This was a challenge we were certainly up to complete, as we work with marketing leading suppliers Solidor. Therefore the customer would not only receive a top-quality service from our team but also a high performance door for their property.
The Style
The customer decided on a beautiful composite door. The Ludlow 2 style was chosen, which is a traditional finish although the door still had a contemporary finish. The addition of the two obscured windows meant that light could enter the property yet the homeowners retained their privacy. Previously, the customers had obscured glass with a floral pattern. However, the glass style chosen was much more modern. The two identical vertical windows gave a timeless feel to their home.
For the finish, the customer went for a unique Painswick colour. This is growing in popularity, along with colours like Chartwell Green as they add a contemporary twist on an otherwise traditional-looking door. The colour will stand out yet remains subtle. Each composite door is finished with a colourfast coating, meaning it won't crack or discolour. This is perfect for a door that is an investment for the homeowner.
As for the hardware, the customer chose the accessories to match. They chose a chrome pull handle, just above their matching chrome letterbox. They also decided on a Heritage still door knocker, in the style Premium Doctor. This was also finished in the same chrome. Finally, the customer decided on a simple key locking which was separate from the door handle. The combination of these hardware accessories ensured harmony in the door, creating a sleek overall look.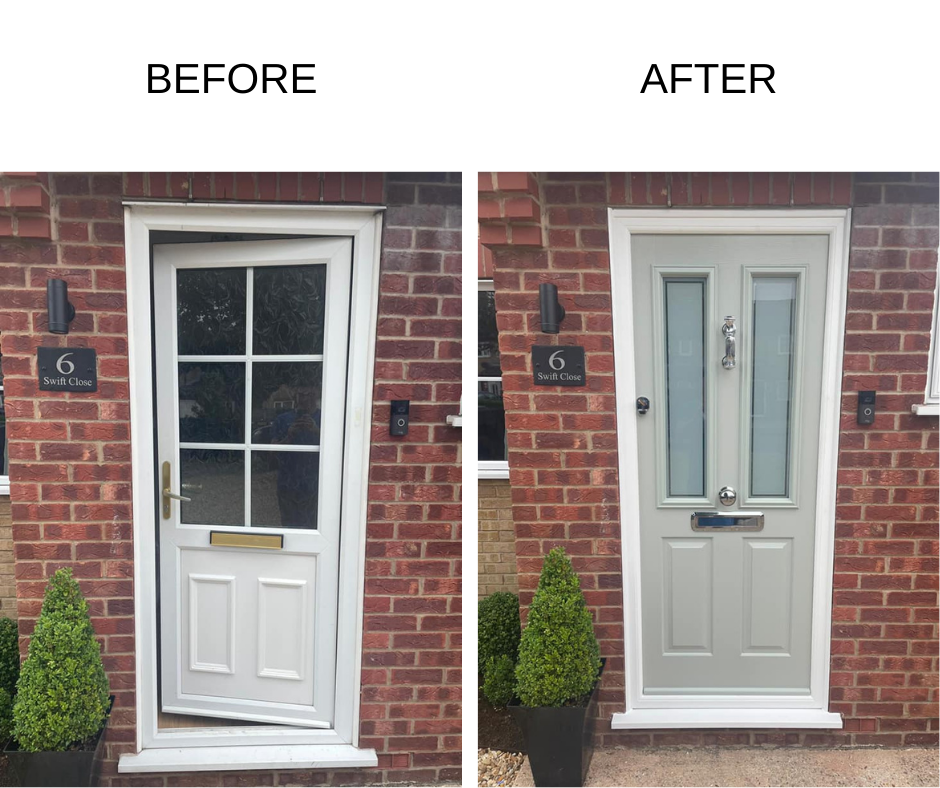 Benefits
This was chosen for its range of practical benefits. Composite doors are made from a superb combination of uPVC, glass reinforced plastic (GRP), timber core and foam. The result is a door that can withstand strong winds and rain without damage. It is incredibly durable and low maintenance, without much time needed for upkeep. This was perfect for the customer who wanted a door that didn't require much of their time. Each door is expertly designed, meaning it won't warp, crack, rot or distort, even when exposed to the elements for a prolonged period.
Composite doors are incredibly secure, making them a must-have for homeowners. We have a wide selection of locking systems, which can be tailored to each customer. The locking, whether that be single locking like this customer or in-handle locks, are all tested to ensure they provide exceptional security. Our suppliers provide exceptional locking that won't suffer from unwanted intruders trying to gain entry. This will give you total peace of mind in the safety of our products. Homeowners can feel safe inside their Cambridgeshire homes when they choose one of our high quality composite doors.
Not only is the security unrivalled, but the energy efficiency of composite doors is to be admired. They offer superior thermal efficiency, ensuring the optimum temperature inside. They won't let cold air inside in the winter thanks to the insulating core and weather seals. Additionally, in warmer summer months, the doors will regulate the interior to prevent the home from becoming too hot. As a result, homeowners can reduce their energy bills over time and save money. this will also reduce their carbon footprint in the long-run making composite doors a worthwhile investment
Composite Door Prices Cambridgeshire
Inspired by our recent composite door installation? Then choose Art On Glass for your next home improvement. We have years of experience in the industry, which has given us unrivalled knowledge and skills. We are proud to be accredited by a range of renowned companies including Certass, Trustmark and Trustwave.
You can use our free online door designer to see how much your next composite door will cost. this is quick and simple to use, giving you total freedom in designing your new product. We have a wide choice of styles, colours, finishes and hardware accessories to perfectly match your home. You are welcome to use this as many times as you like!
If you want to speak to our team directly, then don't hesitate to get in touch. you can fill out our contact form on our website and we will get back to you as soon as possible. Alternatively, give our friendly team a call on 01354 655200 and we will happily give you a quote over the phone. You can ask us any queries about our entire product range!